macadamia and camembert stuffed chicken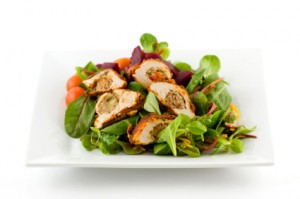 Ingredients
75g Macadamia nuts, coarsely chopped
150g baby Spinach leaves
100g Camembert cheese, coarsely chopped
40g (1/4 cup) dried Cranberries, coarsely chopped
8 (about 1kg) Chicken Thigh fillets, excess fat trimmed
1tbs Olive Oil
Step1
Place the spinach in a heatproof bowl and cover with boiling water. Set aside for 30 seconds or until wilted. Drain. Refresh under cold running water. Squeeze to remove excess liquid. Coarsely chop spinach and transfer to a bowl. Add the Camembert, Torere Macadamias chopped nuts and cranberry. Stir to combine.
Step 2
Place 1 chicken thigh fillet on a clean work surface. Place one-eighth of the spinach mixture in the centre. Starting from a short end, roll up the chicken to enclose the filling and secure with unwaxed white kitchen string. Repeat with the remaining chicken and spinach mixture.
Step 3
Preheat your oven to 200°C and heat the oil in a large non-stick frying pan over high heat. Cook half the chicken for 2 minutes each side or until golden. Transfer to a large baking tray. Repeat the process with the remaining chicken. Bake for 8-10 minutes or until chicken is cooked through. Set aside for 2-3 minutes to rest. Remove the string and cut each chicken fillet into three or four slices. Arrange on a large serving platter with salad leaves. Dress with olive oil.