1st quarter – january, february
&

march
Gisborne Street Food festival on Anniversary Day, the Stat holidays and the extended sizzling summer; increased visitor numbers and boosted record monthly product sales for TML for the whole quarter.

Successful monthly Field Days attracted new commercial growers from the Gisborne and Thames area and new immigrants from Austria looking for investment in the macadamia industry in NZ.

Large commercial orders confirmed for Gisborne deliveries in Spring 2017 and Autumn 2018 – large orders for Home Garden varieties scattered from Christchurch to Far North.

Delivery of 1

st

plant order to Gwen & Duncan Bush (Bush Nuts) for their 1

st

ha. Their location close to central Gisborne is perfect as the model orchard for the region.

The 1

st

of our pure macadamia honey is sent to Trinity Bio-active laboratory in Wellington to identify the bioactivity, antibacterial and microbial properties.

Activate Tairawhiti and Massey Research Partnership with Dr Vern Collette to pursue regional and national growth initiatives for the macadamia industry. Vanessa conducted survey to seek grower input that provided great feedback with the main issue raised being the lack of a supportive industry body.

Developed relationship with Rui Shi from China, Phyto-chemistry scientist at International Macadamia conf. in 2016 who relocated to Plant and Food Research, P.Nth in 2017. Rui is a world leader in macadamia research and development of cosmetic products – she is assisting Torere Macadamias complete the final stages of their variety research to compare and identify the beneficial properties between their 9 selected commercial varieties. Research funding is being sought from several agencies.

Contract with Nuttz in Napier to process our 2017 crop and supply whatever macadamias are required for their markets.

Gisborne Main Freight contracted as new transporter for our nuts and plants NZ wide.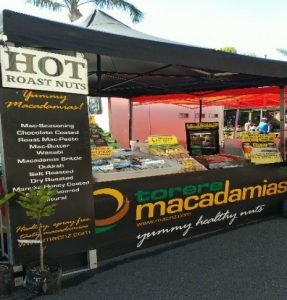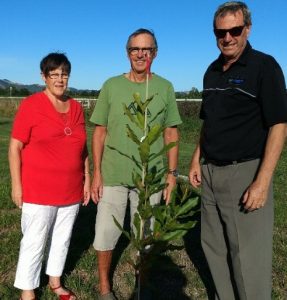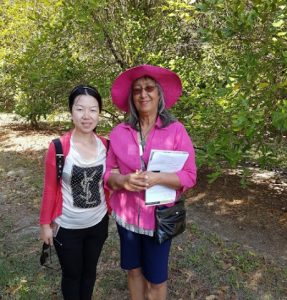 2nd quarter – april, may, june
Cyclone Cook – stripped the roof off the quarantine facility, uprooted several tall shelters that fell on 8 mature macadamias. Massive clean-up over several weeks by whanau to clear debris and remove early windfall nuts before harvest – thank goodness for whanau!

Field Days disrupted by Cyclone Cook however commercial orders confirmed from Dargaville and Kawerau plus dozens of Home Garden plants ordered for Spring/Summer in this 2

nd

quarter.

Plant deliveries around the country disrupted due to the cyclone but no plants were damaged in the nursery or in transit to growers.

Ilko & Elle Scheepens from Crackadamia and Beadblasters visited to demonstrate their new mobile dehusker along with their range of macadamia crackers which was very impressive.

Paul Gordon contractors replace the quarantine roof, new weed-mat was laid in the nursery, the nursery and orchard are immaculate again all ready for harvest, the last grafting of the season and ready for the influx of visitor's due in May and June.

Raggett Industries did an excellent job of updating our signs, rack cards and business cards ready for promotions this year.

Ian Adams from ScionOn visited to demonstrate his new grafting shears with a full day of practical training provided to staff and visitors from Australia. It was a brilliant day of learning and sharing – thank you Ian.

Andrew Starkey, past president of the Australian Macadamia Society and current Nursery consultant visits with Guy, his nursery manager to compare plant care and grafting techniques. Andrew was very impressed with everything including the diverse and healthy organic environment and especially the massive nut bunches in all our trees – not seen in Aussie.

Rui Shi confirmed her Government approved the research funding which includes a visit to NZ this year to build a business relationship with us and a planned return visit to China in 2018.

NZ Macadamia Society AGM was held in Warkworth and in response to the grower survey and grower requests; Vanessa felt obliged to step-up and bring in changes to reflect the predominant dropping varieties today. Vanessa is now the NZ Macadamia Society Vice President and with a new proactive Committee is on a mission to bring change, provide support for all macadamia growers and to grow the industry.

COUNTRY CALENDAR filming was a massive commitment that included our staff in Torere and Gisborne, several new and existing growers, our nut butter & pesto processor, the local community and School at Torere and the Gisborne Farmers market. The 5 full days of filming extended over 2 weeks due to the weather; however, the CC film crew were amazing and dedicated to ensuring everything was perfect. The show features on 30

th

July.